Evening in aid of World Aids Day.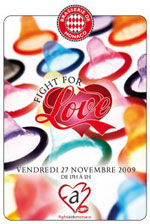 Proceeds towards Fight Aids Monaco.
17:00 to 19:00, Jungle fight, Radio Monaco broadcast co-presented by Princess Stephanie and Malher, live from the Brasserie, with show-biz personalities and a surprise guest
From 19:00, music from Pampa, Or'Elle and DJ Lois
19:30, start of charity poker competition (100 euros entry includes 2 drinks, reserve your place with stephanie[at]brasseriedemonaco.com
Also tombola prize draws every hour.