French language scientific conference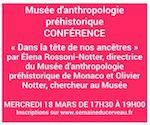 Researcher Olivier Notter and museum director Elena Rossoni-Notter, both of the Musee d'Anthropologie Prehistorique of Monaco, present a talk on the theme Dans la tete de nos ancetres.
duration 1h30
maximum 50 attendees
free entry
The talk marks La semaine du cerveau (Brain Awareness Week) which takes place 16-22 March and is organized by the Societe des Neurosciences, a non-profit scientific association promoting research in all areas of neuroscience.
For more information and reservations visit the website: La semaine du cerveau: dans la tete de nos ancetres.