Art exhibition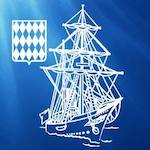 From 1 March to 30 April a travelling exhibition of paintings by Cory Trepanier. The title of the exhibition is Into the Arctic, featuring over 50 oil paintings and three feature-length films documenting the artist's expeditions into the Canadian Arctic.
daily 10:00-18:00
adult entry to museum 16 euros
For more information visit the exhibition website at: Into the Arctic and the venue website at: Musee Oceanographique de Monaco: au coeur de l'arctique.