French language musical show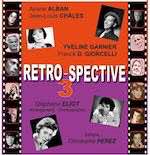 A musical show featuring 'chanson francaise', with Yveline Garnier, Franck Dasilva-Giorcelli, Ariane Alban, Jean-Louis Chales, Stephane Eliot, and Christophe Perez.
tickets 20 euros
available from Fnac Monaco and from the theatre 1 hour before performance starts
Organized by the Compagnie Musicale Y.G.
For more information and reservations phone 06 43 91 93 32, email cmyg[at]monaco.mc, and visit the organizer's facebook page at: Compagnie Musicale Y G.