Annual competition for young artists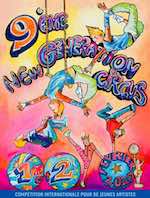 On 1 and 2 February, young acrobats, magicians and animal trainers compete for the Junior d'Or, Junior d'Argent and Junior de Bronze awards at the 9th New Generation Circus Festival. All performers are 20 years old or younger.
Sat 1 Feb
14:30
19:00
Sun 2 Feb, 15:00
For more information phone +377 92 05 23 45 and visit the event website at: Monte Carlo Festivals: Le Festival International du Cirque de Monte-Carlo.