Concert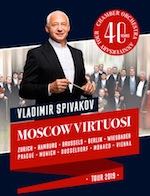 Celebrating its 40th anniversary with a European tour, the Moscow Virtuosi chamber orchestra conducted by Vladimir Spivakov visits Monaco.
tickets 65, 129, 150 euros
Organized by Berin Iglesias Art. For more information visit the organizer's website at: Berin Iglesias Art: Vladimir Spivakov and Moskauer Virtuosen.
For tickets, visit the site: Monte Carlo Ticket: Berin Iglesias Art presents Vladimir Spivakov.