7th edition annual of music competition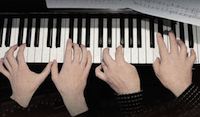 From 25 to 27 October, the Concours International Piano 4 Mains (International Piano 4 Hand Competition) awards the Edmond de Rothschild prize.
25 Oct at 9:30-12:30 and 14:00-17:00 in the auditorium of Academie Rainier III
26 Oct at 19:00 in the Hermitage Hotel's Salon Belle Epoque, gala dinner and competition finals, tickets 130 euros
Organized by the Lions Club of Monaco and Academie Rainier III. For more information phone 07 86 77 41 94 and visit the organizer's website at: Lions Club of Monaco: gala du concours international de piano a 4 mains.