French language conference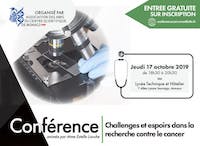 In the school auditorium, a conference about the challenges and hopes in cancer research. Chaired by Estelle Louche, with Dr Gilles Pages, Dr Vincent Picco, and Jerome Durivault on the panel.
free entry, reservation required on Eventbrite
18:30-20:30
con
Organized by the Amis du Centre Scientifique de Monaco association.
For more information visit the reservation website at: eventbrite: challenges et espoirs dans la recherche contre cancer.