Fundraising musical show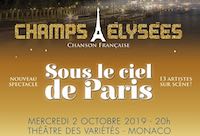 A show featuring 13 artists performing French songs by Aznavour, Piaf, Becaud, Trenet, and Brel.
tickets from 22 euros from usual outlets (Fnac, Carrefour)
unassigned seating
Organized in collaboration with the Kiwanis Club Monaco to support its charity work. For more information visit the organizer's facebook page at: Kiwanis Club de Monaco, the Kiwanis Club French site: Kiwanis district France-Monaco, and the show website at: Champs Elysees - le spectacle hommage a la chanson francaise.