Chamber concert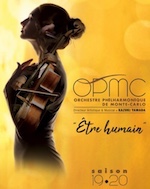 In the Auditorium's Troparium, an informal recital by the Quintette Invictus, five members of the brass section of Monte Carlo Philharmonic Orchestra. The program includes music by Bizet, Frackenpohl, Bernstein, Crespo, Mancini, Kompanek, Di Capua, De Abreu, Matos Rodriguez, and De Costa.
tickets 13 euros
un-numbered seating
Following the recital members of the audience are invited to meet the musicians over a drink.
A Monte Carlo Philharmonic Orchestra 2019-20 Musical Happy Hour performance.
For a full program visit the orchestra's website at: OPMC: season 19/20 upcoming concerts. For information, reservations and tickets, phone +377 98 06 28 28 and visit the venue ticket office.