Monte Carlo Philharmonic Orchestra (OPMC) with guest conductor and soloists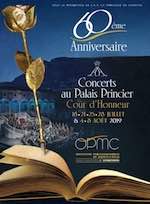 In the Palace Cour d'Honneur, Kazuki Yamada conducts the OPMC, with Nelson Friere on piano. Program:
Beethoven
Piano Concerto no 4, op 58
Symphony no 8, op 93
Tickets 20-40 euros, reductions for groups and students, smart dress (jacket and tie) required.
One of a season of six classical outdoor summer concerts. In the event of bad weather, the concert takes place at 22:00 in the Auditorium Rainier III.
For a full program visit the orchestra's website at: OPMC: nos concerts saison 18/19. For information, reservations and tickets, phone +377 98 06 28 28 and visit the venue ticket office.