Annual luxury car show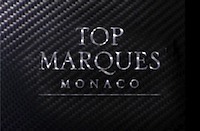 From 30 May to 3 June, the 16th edition of Monaco's exhibition of supercars, watches and superyachts.
Tickets are available from the venue, reservations on +377 99 99 30 00. Prices:
Thu-Fri, adults 70 euros, reductions 60 euros, no children allowed
Sat-Sun, adults 40 euros, reductions 30 euros, children 20 euros, under 8s free of charge
Premium passes available, 120 euros pp, including access to lounge, and open bar.
Opening hours:
Thu-Sun, 10:00-19:30
Mon, by invitation only
Organized by Monaco Check-In. For more information phone +377 97 70 12 77 and the event website: Top Marques Monaco.