Public holiday celebrating Monaco's patron saint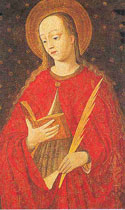 Celebrations for Saint Devote, the patron saint of Monaco and the Princely Family. Events begin on Saint Devote's Eve:
26 Jan
Details to be confirmed.
10:30, Monegasque language mass, blessing of the sea at Eglise Ste Devote
18:30, tribute to Ste Devote, symbolic boat enters Port Hercule
18:45, Ste Devote procession along avenue JF Kennedy
19:00, adoration of the Blessed Sacrament at Eglise Ste Devote
19:45, burning of symbolic boat at Eglise Ste Devote
followed by musical fireworks
27 Jan
On the morning of Saint Devote's Day, the saint's relics are welcomed to Monaco Cathedral, where a pontifical mass is celebrated, followed by a procession through the streets of the Rocher and prayers by the Archbishop asking the saint to protect Prince Albert, his family, Monaco and its residents (details to be confirmed):
9:45, reception of the relics at the Cathedral
10:00, pontifical mass with music and chants performed by the Maitrisse de la Cathedrale and the Petits Chanteurs de Monaco
11:30, procession of relics through Monaco Ville
Sainte Devote became Monaco's patron saint in the 17th century under Honore II, and traditional celebrations have taken place since 1874. Read maBoum's brief outline of the saint's story at: Saint Devote's Day Tomorrow.