Spiritual music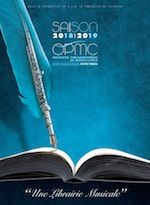 A concert performed by the Tokyo Philharmonic Choir conducted by Kazuki Yamada. The program includes music by Toru Takemitsu, Minao Shibata, Stephen Leek, Raymond Murray Schafer, and Astor Piazzolla.
free entry
limited seating
A Monte Carlo Philharmonic Orchestra 2018-19 Spiritual Concert performance.
For a full program visit the orchestra's website at: OPMC: nos concerts saison 18/19. For information, reservations and tickets, phone +377 98 06 28 28 and visit the venue ticket office.