Live electro jazz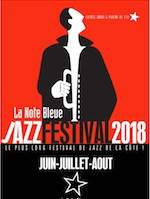 In the jazz lounge, two performances, on 2 and 3 August, by pianist Alfio Origlio.
free entry
21:00-midnight
This year, Note Bleue regular Origlio is moving from piano to keyboards for a more electronic sound. He's joined by Philippe Sellam on sax and Nicolas Viccaro on drums,
For more information and to reserve a table, phone +377 93 50 05 02, email programmation[at]lanotebleue.mc, and for full program visit the venue website at: La Note Bleue: festival.