Live jazz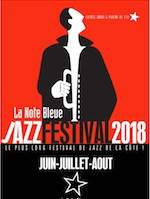 In the jazz lounge, two performances, on 28 Jul and 4 Aug, by bassist and vocalist Scott Allen.
free entry
21:00-midnight
Performing with Scott are Nils Indjein on keyboards, Bernd Meckenstock on guitar, and Andrea Paone on drums. They play music to make you want to move.
For more information and to reserve a table, phone +377 93 50 05 02, email programmation[at]lanotebleue.mc, and for full program visit the venue website at: La Note Bleue: festival.