Celebrating tradition and gastronomy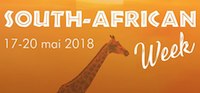 From 17 to 20 May, marking the close relationship between Monaco and South Africa, and showcasing culture and gastronomy. Local chefs are working alongside Michelin-starred Marcel Ravin and the Orange Verte and Blue Bay restaurants. Cenestra Male Choir is performing, and a party is planned on Saturday 19 May on the Orange Verte's terrace.
Organized by Monte Carlo SBM. For more information and reservations phone +377 98 06 03 60.