Student concert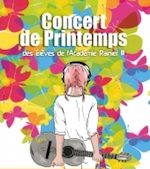 Students of Academie Rainier III perform their spring concert.
free entry, open to the public
Initially established as a municipal music school in 1922, the Academie Rainier III is now classed as a conservatory. It specialises in music and dramatic art and is managed by the Mairie de Monaco. Over 800 students attend, with 61 teachers and 13 support and administrative staff. Entry is open to young people aged 5 to 27 with a link to the Principality.
For more information contact the Academie on +377 93 15 28 91 and the venue on +377 93 25 67 83, and visit the academy website at: Academie Rainier III: agenda.