Magic show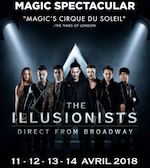 In the Salle des Princes, four performances from 11 to 14 April, of the Broadway show The Illusionists, in Monaco on its world tour. It features a new generation of seven magicians from around the world, with live backing music and video projections.
tickets 45, 59 and 69 euros, half price for under 25s
duration 2h10, with 20 min interval
For more information visit the venue website at: Grimaldi Forum: The Illusionists.
Invitation to CREM
Members of the Club des Residents Etrangers de Monaco are invited to the 12 April performance.
category 1 tickets 58.50 euros
RSVP before 8 Jan
limited to 16 seats
For more information email info[at]crem.mc or phone +377 97 98 01 77.