Beausoleil Chamber Music Festival concert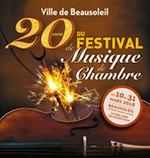 The Orchestre Passion Classique, conducted by Andre Peyregne, performs a number of works by Vivaldi. Free entry.
For more information about the Festival de Musique de Chambre, and to reserve a seat, phone +33 04 93 78 90 80 or email culturel[at]villedebeausoleil.fr. For a full program, visit the organizer's website at: Beausoleil Town.