Charity concert and gala dinner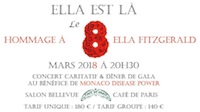 In the upper floor Salon Bellevue, the 3rd edition of a concert and gala dinner raising funds for Monaco Disease Power. The music pays tribute to Ella Fitzgerald.
180 euros pp
groups of 6+ from 140 euros pp
price includes welcome kir, 3-course dinner, coffee and mignardises
During the evening there is a tombola. Artists include Sandra St Mila, Marie Caroline Kfoury, Natalia Thompson, Solistes de Monte Carlo, DJ Thompson and friends.
Organized by the Organisation United Republic of Art (OURA). For more information, reservations and to confirm menu choices before 3 March email oura.communication[at]gmail.com, phone 06 70 00 34 05, and visit the organizer's facebook page at: Organisation United Republic of Art - OURA.