Annual powerboating awards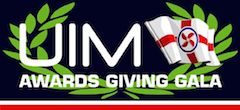 An event celebrating the best racers and successes of the power-boating season. Attended by VIPs and representatives of sports federations and the boat building industry.
15:00, press conference
19:00, cocktail
20:30, gala dinner and awards ceremony
Organized by the Union Internationale Motonautique (UIM), the world governing body for all powerboating activities and recognized by the International Olympic Committee (IOC). It has 60 affiliated National Federations and covers the disciplines of circuit, offshore, pleasure navigation and aquabike. A signatory of the United Nations Environment Program (UNEP) cooperation agreement, the UIM works to further its range of environmental initiatives, share expertise and encourage the greening of the sport.
For more information phone +377 92 05 25 22, email uim[at]uimpowerboating.com, and visit the organization's website at: Union Internationale Motonautique.