Dinner and show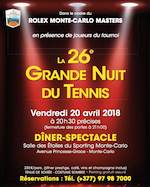 The 26th Grande Nuit du Tennis is attended by several tennis players who are in town for the Monte Carlo Rolex Masters. Headlining the show are the 12 Tenors, with further entertainment by Charlie Mag, Mayan Yan, and The Sky Angels, and music provided by the Harpsody Orchestra, and the Showtime Orchestra.
230 euros pp, includes dinner, coffee, wine and champagne
dress code: evening wear
For more information and reservations phone +377 97 98 70 07 and visit the organizer's website at: Rolex Monte Carlo Masters: Grande Nuit du Tennis.