A Printemps des Arts 2018 French workshop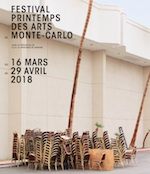 From 26 to 30 Mar, a 5-day workshop in using IanniX software for sound design, lighting and video, led by developers Thierry Coduys and Guillaume Jacquemin. Participants may submit their project for selection for Printemps des Arts 2019.
The workshop costs 60 euros for 5 days, with two sessions per day, 09:30-12:30 and 13:30-17:00. Program:
26 Mar, La creation numerique et interactive
27 Mar, Decouverte et utilisation de IanniX
28 Mar, Ecriture d'un projet interactif
29 Mar, Realisation d'un projet interactif
30 Mar, Finalisation et restitution ouverte au public
For a listing of all Printemps des Arts 2018 events, visit our page: Printemps des Arts 2018 and for more information about the event visit the website: Festival Printemps des Arts de Monte Carlo.