Public presentation of Monaco hot air balloon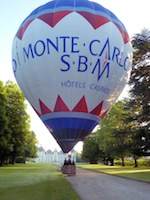 Photo Source:
Monaco Ballooning website
From 11 to 13 January in the Grimaldi Forum's entrance hall, the Club des Aeronautes de Monaco presents its new hot air balloon, Jeeper, to the public.
free entry, open to the public
The event is an opportunity to find out about the club, who built the balloon, prototypes of baskets and heaters, and paper models. If the weather permits, the balloon will be inflated on the esplanade.
For more information visit the club website at: Monaco Ballooning Team - Les Aeronautes de Monaco.