Awareness-raising event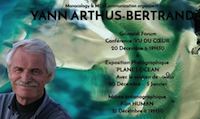 A number of events promoting the work and interests of Yann Arthus-Bertrand, photographer and film-maker. Organized by Monacology and MC.5 Communication, with the support of The Fondation GoodPlanet, Education Nationale de la Jeunesse et des Sports, Direction du Tourisme et des Congres de Monaco, Grimaldi Forum, Musee Oceanographique, Stavros Niarchos Foundation, Mairie de Monaco and Stars n Bars.
For more information contact:
Monacology, +377 97 97 95 95, kate[at]starsnbars.com
MC.5 Communication, 06 03 49 49 39
From 20 December to 5 January
At the Grimaldi Forum, an exhibition of photographs by Yann Arthus-Bertrand and Brian Skerry, entitled Planet Ocean.
free entry, open to the public
20 December
At 19:30 in the Salle Prince Pierre, Yann Arthus-Bertrand talks on the theme Vu Du Coeur (seen from the heart). He discusses his career in animal photography, film production, and his interests in the planet, humanity and people.
15 euros
seniors and under 18s, 10 euros
For more information phone +377 99 99 30 00.
21 December
At the Oceanographic Museum, an initative of Monacology offering school-children in 6th to terminale years an opportunity to discover the films of Yann Arthus-Bertrand.
At 19:30 a screening of the film Human:
free entry, open to the public
limited to 400 attendees