Art project exhibition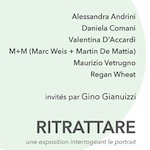 From 19 September to 31 October, an art project conceived by Gino Gianuizzi. Six artists were asked to create work on the theme of "the portrait", inspired by the Italian notion of "ritrattare" (revisit, reject, create a portrait).
21 Sep from 18:30, exhibition launch
For more information visit the venue's website at: l'Entrepot: Gino Gianuizzi - Ritrattare.