Music for a young audience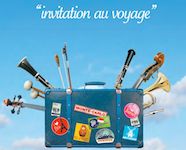 A musical event that uses Mussorgsky's Pictures at an Exhibition to capture children's attention and develop their appreciation of music. Maxime Tortelier conducts the orchestra and Katerina Barsukova creates sand pictures.
A Monte Carlo Philharmonic Orchestra 2017-18 Concert Jeune Public season performance.
Part of Monte Carlo Philharmonic Orchestra's 2017-18 season.
For a full program visit the orchestra's website at: OPMC concerts: saison 17/18. For information, reservations and tickets, phone +377 98 06 28 28 and visit the venue ticket office.