No concerts, movies, sports events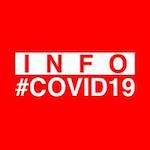 In light of the Covid-19 pandemic, Monaco's government closed all public spaces that are not essential to daily life, from midnight on Saturday 14 March.
Markets and food shops, pharmacies, tabacs, petrol stations, banks and churches remain open. All other types of commerce must close, including restaurants, casinos, cafes, theatres, cinemas and nightclubs.
You can follow developments on the Government website, where it publishes regular press releases about the health situation at: Gouvernement Princier Principaute de Monaco: Toutes les Actualites du theme "Le Social et la Sante", and in our daily news roundups with links to the Monaco media outlets.
For you, dear reader, this means that all the events listed on maBoum are canceled.